Huntington's Disease
Introduction
In 1872, George Huntington published his essay titled "On Chorea." However, because there are many other manifestations of the disease and chorea might not even be present, the term Huntington's disease is more appropriate. Huntington's disease is a model neurobehavioral and neurodegenerative disease for which the discovery of a gene mutation in 1993 has gradually translated into improved understanding of the mechanisms of cell death and pathogenesis-targeted treatments. The diagnosis can be confirmed by a DNA test showing ≥40 CAG repeats in the huntingtin (Htt) gene.
Epidemiology
The prevalence of HD varies from one geographic area to another, based on a diaspora from southeast England following the founder mutation in the early 17th century. Based on a meta-analysis of 13 studies, the worldwide prevalence of HD was found to be 2.71 per 100,000 (95% confidence interval [CI], 1.55-4.72) and the overall incidence was 0.38 per 100,000 per year (95% CI, 0.16-0.94).[64] The estimated prevalence of HD in the United States is about 6 cases per 100,000 people, which translates to about 30,000 individuals with HD and another 200,000 at risk of developing the disease. In contrast, in certain regions of the world the prevalence is as high as 560 per 100,000 (Moray Firth, Scotland) and 700 per 100,000 (Lake Maracaibo, Venezuela).
Clinical Aspects
Chorea, the clinical hallmark of HD, consists of involuntary, continual, abrupt, rapid, brief, unsustained, irregular movements that flow randomly from one body part to another. Patients can partially and temporarily suppress the chorea and frequently camouflage some of the movements by incorporating them into semipurposeful activities (parakinesia). The inability to maintain voluntary contraction (motor impersistence), such as manual grip (milkmaid grip) or tongue protrusion, is a characteristic feature of chorea that results in the dropping of objects and clumsiness. In addition to chorea, other presenting symptoms of HD include gait and balance difficulties, irritability, depression, clumsiness, speech difficulty, memory loss, dropping of objects, lack of motivation, paranoia, intellectual decline, sleep disturbance, hallucination, weight loss, and sexual problems. Besides chorea, other motor symptoms that typically affect patients with HD include dystonia, postural instability, ataxia, slow saccades, dystonia, bruxism, myoclonus, tics and Tourettism, dysarthria, dysphagia, and aerophagia. The Unified Huntington's Disease Rating Scale (UHDRS) was developed to assess and quantify various clinical features of HD, specifically motor function, cognitive function, behavioral abnormalities, and functional capacity. Hung-up and pendular reflexes are also typically present in patients with HD.
Besides chorea and other motor abnormalities, the HD cardinal triad includes cognitive decline and various psychiatric symptoms, particularly depression, personality changes, and compulsive behavior. The observed increased risk of suicide may in part be related to underlying depression as well as impulsivity. In addition to motor, cognitive, and behavioral abnormalities, most patients with HD lose weight during the course of their disease, despite increased appetite.[65]
About 10% of HD cases have their onset before age 20. This juvenile HD is usually inherited from the father (father vs mother inheritance for patients with onset before 10 years is 3:1). Juvenile HD is associated with higher CAG repeats (see below). Juvenile HD typically presents with the combination of progressive parkinsonism, dementia, ataxia, myoclonus, and seizures.
Natural Course
The natural course of HD varies; on the average, duration of illness from onset to death is about 15 years for adult HD, but it is about 4 to 5 years shorter for the juvenile variant. Clinical-pathologic studies have demonstrated a strong inverse correlation between age at onset and progression of the disease as well as severity of striatal degeneration. Based on an analysis of 569 subjects prospectively followed over a mean follow-up of 8.2 years, CAG repeat length alone showed a statistically significant but small effect on the progression of all clinical measures; smaller triplet expansion was associated with a slower decline than larger expansion.[66] However, some patients who have pathologic CAG expansion have a relatively benign, nonprogressive course.[67] Progressive motor dysfunction, dementia, dysphagia, and incontinence eventually lead to institutionalization and death from aspiration, infection, and poor nutrition.
Neuroimaging
Caudate atrophy, as measured by the ratio of intercaudate to outer-table distances, has traditionally been used as an index of striatal atrophy in HD. Subsequent studies, however, have shown that a reduction in the volume of putamen, as measured by magnetic resonance imaging (MRI), is a more sensitive index of neurologic dysfunction than caudate atrophy. Other imaging studies have suggested that myelin breakdown and changes in ferritin iron distribution underlie the regional toxicity and may be important in the pathogenesis of HD.[68] Pre-HD individuals have been found to have lower gross gray matter and white matter volume; voxel-wise analysis demonstrated local gray matter volume loss, most notably in regions consistent with basal ganglia-thalamocortical pathways, whereas pre-HD individuals showed widespread reductions in white matter integrity. Besides predominant striatal involvement, atrophy of the accumbens nucleus and pallidum are also apparent in premanifest HD.[69] The whole-brain and caudate atrophy rates were found to correlate with the UHDRS total functional capacity score and with cognitive and quantitative motor measures.[70] As microglial activation has been found to correlate with neuronal degeneration, techniques designed to image microglia activation, such as [(11)C](R)-PK11195 positron emission tomography (PET), show that microglia activation correlates with severity of the disease (eg, UHDRS score).
Neurology and Neurochemistry
Pathologic studies have provided evidence for primary involvement of the basal ganglia-thalamocortical circuitry in HD. Based on a detailed neuropathologic examination of a total of 523 HD brains, the investigators found that the size of the expanded CAG repeat correlates well with the degree of striatal but not cortical pathology.[71] Chorea seems to be related to the loss of medium spiny striatal neurons projecting to the lateral pallidum (GPe), whereas rigid-akinetic symptoms correlate with the additional loss of striatal neurons projecting to the substantia nigra compacta (SNc) and medial pallidum (GPi). Huntingtin (Htt), the product of the HD gene (see below), is expressed throughout the brain in both affected and unaffected regions; therefore, its contribution to neurodegeneration in HD is unclear. The finding of neuronal intranuclear inclusions and dystrophic neurites in the two regions that are most affected in HD -- the cortex and the striatum -- has revolutionized our understanding of the genetic-pathologic mechanisms of this heredodegenerative disorder. Mild degeneration in the SN, coupled with postsynaptic loss of dopamine receptors, might be responsible for the parkinsonian findings in some HD patients. Loss of the medium-sized spiny neurons, which normally constitute 80% of all striatal neurons, is associated with a marked decrease in γ-aminobutyric acid (GABA) and enkephalin levels. In contrast, the cholinergic and somatostatin striatal interneurons seem to be relatively spared in HD.
Genetics
The mutation responsible for HD consists of an unstable expansion of the CAG repeat sequence in the 5' end of a large (210 kb) gene, huntingtin (Htt), also called IT15. This gene, located at 4p16.3, contains 67 exons and encodes a previously unknown 348-kDa protein named Htt.
Although the DNA diagnosis of HD requires ≥40 CAG repeats, several studies have demonstrated that family members of HD patients with CAG repeat in the intermediate range (27-35) had some abnormalities in motor, cognitive, and behavioral domains of UHDRS when compared to healthy controls[72,73]; see Figure 5.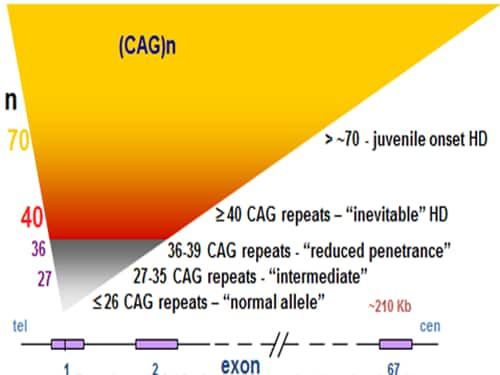 Figure 5. Expansion of CAG repeats in Huntington gene. In HD the polyglutamine segment near the NH2 is elongated. Adapted from Fahn S, et al.[7]
Animal Models
There are currently three types of HD transgenic mouse models: (1) mice expressing fragments, usually one or two exons of the human huntingtin gene that contain the polyglutamine expansion (R6/2 and N-171-82Q mice); (2) transgenic mice expressing the full-length human huntingtin gene with expanded polyglutamine tract (YAC128 mice); and (3) knock-in mice with pathogenic CAG repeats inserted into the existing CAG expansion (HdhQIII ). Unfortunately, none of these models closely simulate the human disease. In addition to the subprimate models, progress is being made in developing a transgenic model of HD in a rhesus macaque monkey that expresses polyglutamine-expanded Htt.
Pathogenesis
Despite the discovery of the causative gene more than 2 decades ago, the understanding of the pathoegenesis of HD is still quite elementary. Multiple processes have been postulated to relate CAG expansion to neurodegeneration.[74]
Treatment
Treatment of HD begins with education about the disease, including its natural history, genetics, and insight-oriented therapy. Although HD is one of few neurodegenerative diseases for which the diagnosis can be made long before the onset of clinical symptoms, and it is therefore an excellent model for testing early neuroprotective treatments, no disease-modifying therapies have been found as yet.[74-76] Until such therapies are available, the management of patients with HD will focus primarily on relief of symptoms designed to improve their quality of life.
The only drug approved for the treatment of chorea associated with HD is is tetrabenazine, which was approved by the US Food and Drug Administration (FDA) in 2008. There are no other approved drugs for any other symptom of HD. Tetrabenazine is a potent, selective, reversible inhibitor of striatal vesicular monoamine transporter type 2 (VMAT2); it causes depletion of striatal dopamine, and has been shown to be effective in the treatment of a variety of hyperkinetic movement disorders including chorea, tics, and tardive dyskinesia.[77] Although tetrabenazine can cause or exacerbate depression, sedation, akathisia, and parkinsonism, when the dose is increased and adjusted judiciously the drug is effective and safe.[78] In a multicenter, double-blind, placebo-controlled trial (TETRA-HD) of tetrabenazine involving 84 ambulatory patients with HD, tetrabenazine treatment resulted in a reduction of 5.0 units in chorea severity compared with a reduction of 1.5 units on placebo treatment (adjusted mean effect size = -3.5 ± 0.8 UHDRS units [mean ± standard error]; 95% CI, -5.2 to -1.9; P <.0001).[79] The Cochrane Database of Systematic Reviews, which examined 22 trials (1254 subjects), concluded that based on available evidence, only tetrabenazine showed a clear efficacy for the control of chorea.[80]
Several guidelines on the treatment of HD have been published (Figure 6).[74,81,82]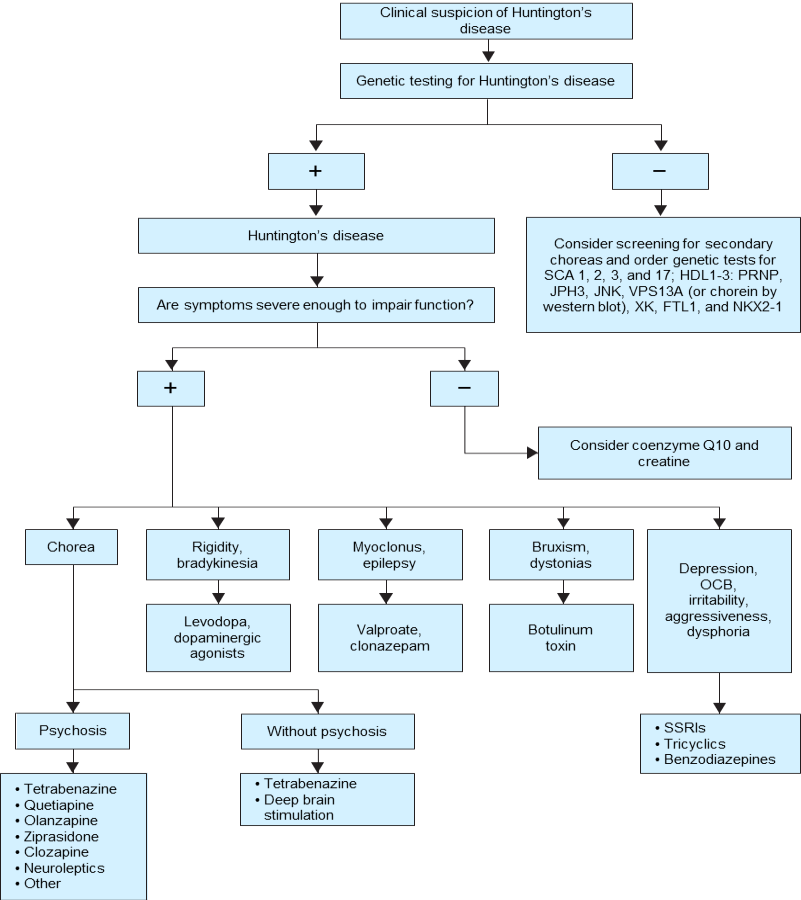 Figure 6. Therapeutic approaches for the treatment of HD. From Jankovic J.[81]
Several promising drugs are currently being investigated as symptomative and potential disease-modifying therapies (Table 4).
Table 4. Experimental Therapies for Huntington's Disease
Pridopidine (ACR16, "dopaminergic stabilizer")

(MermaiHD and HART trials)
Ethyl-EPA
Latrepirdine

(DIMOND and HORIZON trials)
Creatine, coenzyme Q10, lithium
Cysteamine (RP103)
Selististat (sirtuin deacetylase)
Histone deacetylase inhibitors

(HDACi 4b)
Phosphodiesterase PDE10A inhibitors (TP-10)
PBT2
Ganglioside GM1
Rhes inhibitors
Neurturin
Anti-htt Ab (intrabody)
Small interfering (si) RNA
Antisense oglionucleotides
Cell replacement (fetal cells, embryonic stem cells, or induced pluripotent cells)